Polypipe to reveal latest innovations in smart water management at Flood Expo
Tuesday 21st September 2021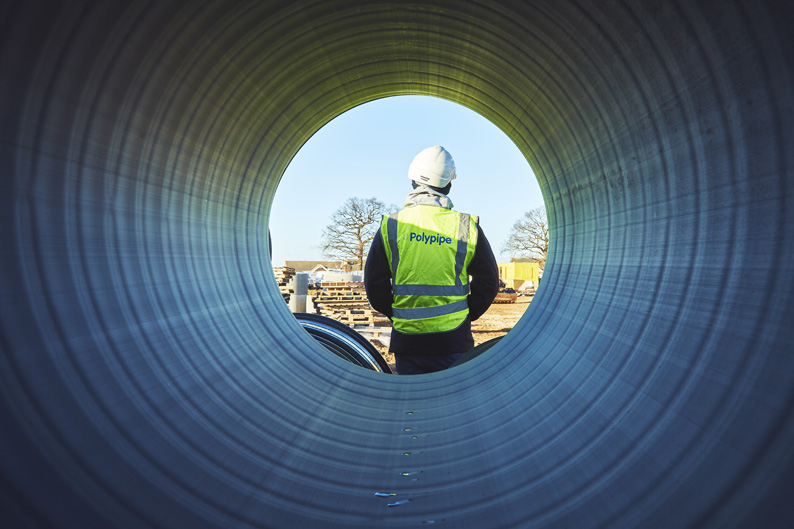 We're thrilled to announce that as a key sponsor of this year's Flood Expo, the UK's leading flood management event, we'll be revealing the latest thinking and innovations in smart water management during two key seminars.
Flood Expo will be held at the NEC in Birmingham on 22 and 23 September and through exhibitors, seminars and more, attendees will learn about the latest products, services and strategies to transform the way flooding is predicted, prevented and managed.
On the first day at 2.45pm, Sean Robinson, Specification Director for Polypipe Civils & Green Urbanisation, and Phil Williams, Principal Water Engineer of EPG, will introduce delegates to green urbanisation and how smart water management can establish resilience to both drought and flood events. Sean will explain how rainwater harvesting and reuse has a new role to play in storm water management and design and ways in which it can support green assets. As part of this discussion, we will also launch our latest innovation that will help the industry develop optimised smart, scalable water management strategies for site, masterplan and catchment management.
On the second day at 11am, Charlotte Markey, Green Urbanisation Innovation Manager at Polypipe Civils & Green Urbanisation, will deliver a keynote presentation on green urbanisation in relation to the upcoming COP26 conference. Charlotte will explore the importance of green infrastructure when integrated with sustainable water management and how this can be linked to wider environmental metrics. On top of this, Charlotte will look at how new systems and ways of working can provide more holistic calculations around the ROI of infrastructure projects and in line with carbon net zero commitments.
Sean Robinson said: "Only by unlocking the full potential of optimised rainwater reuse will we be able to realise a truly resilient future – one in which green spaces, natural resources, biodiversity, community health and wellbeing all benefit. This year's Flood Expo comes at an important time and it will give the industry the chance to come together to learn about the new and innovative ways of managing rainwater and reusing it to not only mitigate the extremes of climate change but also shape and sustain a new and exciting urban landscape."
For more information and to register, visit: https://www.thefloodexpo.co.uk/welcome
Back to News