In-Building Soil, Waste & Vent
In-Building Soil, Waste and Vent pipe systems for Commercial Buildings
At Polypipe we have soil & waste systems and vent systems to suit all applications. Our extensive range of products designed for commercial building services can drain internal and external fluids from inside any commercial, public, or tall high-rise building to the underground drainage system.
Manufactured from high density polyethylene, this soil and waste pipe system is suitable for a large number of commercial applications. HDPE is a versatile material and due to its inherent characteristics lends itself to fabrication.
PVC is an established drainage system material with a long service life in excess of 50 years. Terrain PVC Soil & Waste also lends itself to fabrication.
Terrain Q is a multi-layer noise reducing drainage system producing increased fire retardancy with a fire classification rating of B-s1,d0. Engineered push-fit mechanism, Terrain Q is secure and quick to install.
Literature & Technical info
pdf (8.85 MB)
Terrain FUZE Technical Manual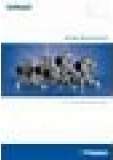 pdf (16.52 MB)
Terrain Above Ground Technical Manual