Spilt Milk is no match for Polypipe's Ridgistorm-XL System
Friday 31st March 2017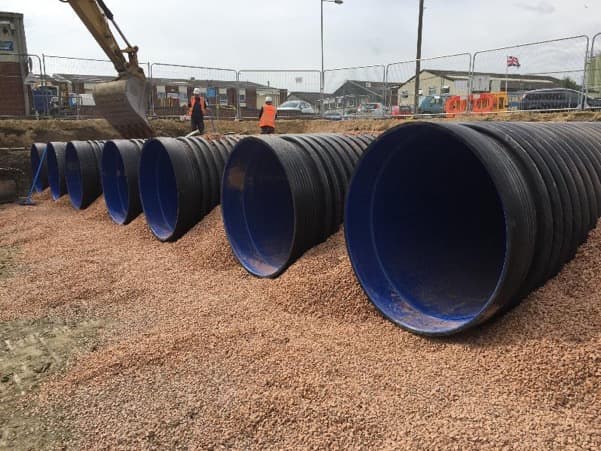 It's not often that a manufacturer of drainage systems is asked to consider floods of milk within its system designs, but that's what Polypipe faced in one recent project.
When a historic dairy processor in Tewkesbury, Gloucestershire needed to expand its delivery yard to cope with rising capacity, Polypipe supplied its market leading large diameter Ridgistorm-XL system to provide long-lasting protection from stormwater and dairy spillages.
Established in 1938, Cotteswold Dairy distributes fresh milk to customers across the country. Following an increase in trade, the Dairy invested heavily to increase the size of its yard to allow for the movement of the delivery fleet.
Gloucestershire remains one of most susceptible counties in the UK for flooding, so it was crucial that the yard expansion at Cotteswold Dairy incorporated an appropriate water management solution to store and attenuate any excess surface water on site.
Working closely with the project's Construction and Cost Management team from Cheltenham based Vitruvius Management Services, the main contractor Smith's of Gloucester, and Consultant Engineer Infrastructure Design Studio from the early stages of the project, Polypipe supplied more than 250 metres of Ridgistorm-XL piping to feed an engineered attenuation tank.
The entire system, which was designed and engineered by Polypipe's experts in the company's own manufacturing facility, sits beneath the lorry park and discharges stormwater into a local watercourse.
Traffic movement from the delivery fleet has the potential to lead to milk spillages mixing with surface water before entering the drainage system. Due to the ability of milk to corrode metal, a cast iron or steel system was unsuitable, and to mitigate the problem plastic was selected as the preferred material.
Polypipe's Ridgistorm-XL system was the preferred choice due to its robust and reliable nature, along with a design life in excess of 100 years. Polypipe's ability to pre-fabricate the system off-site ensured that installation could commence immediately upon delivery, reducing time, labour and cost savings that traditional system, such as concrete piping, couldn't match.
The expertise and engineering capability of Polypipe's team was most visible in the project's Ridgistorm-XL attenuation tank. The tank incorporated a RIDGISTORMCheck Vortex Flow Control Chamber, as well as 10 fabricated fittings, including 90o bends and double T sections to control the discharge of water from the tank at a consistent rate into an existing watercourse.
The spigot design of the pipes and fittings made pipe alignment simple and fully compatible with the electro-fusion jointing method. This in turn ensures that the installation process is more efficient and less time-consuming.
James Berry, Civil Engineer, Infrastructure Design Studio says "Being a dairy processing site, there is a potential risk of milk leakages entering the tank to consider, and for this reason plastic was the ideal solution. Polypipe's ability to fabricate products meant the systems specified were unique to the project and could be delivered ready to install. Polypipe was also able to offer technical support throughout the project, which was invaluable."
Amber Richardson, Marketing Executive at Polypipe says, "We worked with Infrastructure Design Studio from the very early stages to produce a system that could withstand heavy loads at the dairy before being discharged to the local watercourse. The system we designed met all the requirements specified whilst saving considerable installation time and cost.
Back to News