Ridgistorm-XL Chamber Accessories
We have a selection of chamber accessories that can be pre-fabricated into our RIDGISTORMAccess Manholes, to provide enhacned Health and Safety benefits for workers inside our chambers. All chambers are delivered to site, ready to install as one-piece modular units. Our safety accessories offering includes Guardrails, Safety Chains, Ladders and Steps and Toe Holds.
Additionally, our RIDGISTORMAccess Manholes have the option of being manufactured with a range of Lifting Points, which are designed specifically to aid in the safe handling of Ridgistorm-XL chambers when loading, off-loading and installing the products on-site.
Guardrail Assembly – Product Code: RSTBA
Guardrail Assemblies can be pre-installed into our RIDGISTORMAccess Manholes and chambers where the outflow pipe is greater than 600mm, to act as a safety barrier to prevent site workers from accidently falling into the outflow channel. Guardrail Assemblies comply with Sewers for Adoption 7th Edition and MCGW F Series.

Safety Chain Assembly – Product Code: RSTSC
Securely fitted into our RIDGISTORMAccess Manholes, Safety Chain Assemblies can be used when the outflow pipes are greater than 600mm. They act as a lifeline if a worker was to accidently fall into the outflow pipe whilst in a manhole or chamber. The Safety Chain Assembly is positioned as close to the end of the channel as possible, allowing the worker to hold onto the chain to prevent being carried further into the system.
Ladders & Steps
Ladders and Steps can be incorporated to allow for the safe access of a worker into a RIDGISTORMAccess Manhole or chamber.Step rungs are compliant with BS EN 13101, and Ladders to BS EN 14396. Steps can be used in manholes and chambers between 1050-3000mm, and Ladders from 1200-3000mm.
Toe Holds
Toe Holds provide safe and secure assistance for maintenance personnel when accessing or exiting a RIDGISTORMAccess Manhole or chamber. They act to create a step within the channel wall, and ensure that chambers can be compliant with the Manual of Contract Documents for Highway Works (MCHW), where applicable. To Comply with MCHW, Toe Holds must be installed in chambers with an outflow diameter greater than 500mm.

Literature & Technical info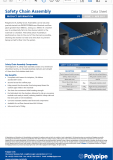 pdf (637.08 KB)
Safety Chain Assembly Data Sheet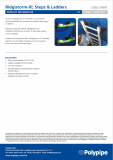 pdf (753.93 KB)
Ladders & Steps Data Sheet
pdf (651.81 KB)
Guardrail Assembly Data Sheet
Case Studies
An increase in routes and passenger numbers meant that Manchester Airports Group Plc (MAG) required a new shuttle bus route and 9,000 extra car parking spaces at the...
View Case Study >
Polypipe, the UK's leading manufacturer of sustainable drainage and water management products, has seen its Ridgistorm-XL large diameter piping system used as...
View Case Study >