Polypipe Surestop releases their i-water control system
Monday 17th June 2019

Polypipe Surestop have recently released their i-water control system which enables you to control your water any time, any place, any where in the world using a desktop or mobile device.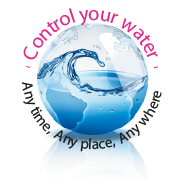 The system enables multiple valves to be paired to a single hub giving zonal control in a property. Not only this, but multiple hubs can be controlled via the web portal, giving you the ability of controlling water remotely in separate individual properties. Perfect for housebuilders and landlords!
According to leading insurer Direct Line, the average household cost for damage caused by a burst water pipe is £7000, with the smallest of leaks quickly becoming an expensive issue to rectify. If you own or manage more than one house that experiences a leak, these costs would significantly mount up.
The Surestop i-water control is perfect to use in conjunction with products such as the Honeywell Wi-Fi Water Leak and Freeze Detector.
The Honeywell leak detector could notify you of any leaks in your property, then within seconds you can turn the water off in your property with the Polypipe Surestop i-water control app.
Reduced Risk
Whether it be a single or large housing stock, in a one-floor or multi-floor property, damage caused by water leaks can be extremely costly. The Surestop product offers a cutting edge solution to reduce water damage caused by leaks and reduce repair costs due to out of hours emergency repairs.
Flexibility
Our ability to pair multiple valves to a single Surestop hub gives the ability to control water in zones. The WEB portal also allows users to have multiple hubs associated to a single portal enabling external water control over various properties. Our Android and IOS app mirror the WEB portal giving further external control and flexibility for those times when computer access isn't available.
Simple and Quick Installation
The product takes 30 minutes to be installed and is suitable for all trades. No mains electrical installation will be required.
High Quality Product
Surestop products are patented and every product is manufactured, and 100% pressure and function tested from their facility in the West Midlands. This helps to ensure customer expectations of quality and performance are achieved with every product.
Network of UK Stockists
Surestop have a nationwide network of reliable stockists who sell our products in-branch and online. For help on finding your nearest stockist or for further information about Surestop, visit their website.
Back to News