Polypipe Apprentice Recognised in National Award Win
Wednesday 3rd May 2017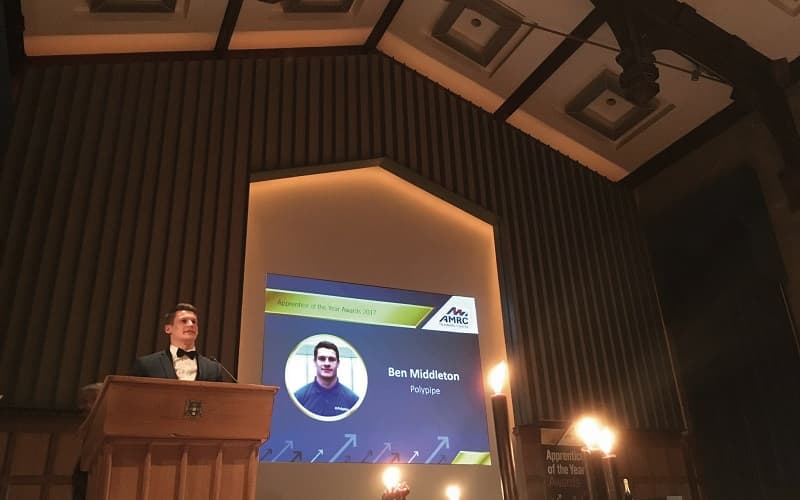 A passion to innovate by all staff at Polypipe, has seen one of the company's intake of talented apprentices recognised at a prestigious national award ceremony.
Ben Middleton, currently undertaking a four-year apprenticeship at Polypipe's Broomhouse Lane site in Doncaster, was named Machine Apprentice of the Year at the 2017 AMRC Training Centre Apprentice of the Year Awards.
Nominated by Polypipe staff, Ben was called upon by the awarding body to demonstrate how his apprenticeship has added real value. Ben played a key role in the creation of a tooling innovation that is not only running in full production – but stands to save the company a substantial amount in the manufacture of its market leading piping systems.
Ben's success is a further demonstration of Polypipe's dedication to the development and investment into new manufacturing methods to help its customers overcome the challenges associated with creating sustainable construction projects that create greener environments.
Vince Fenson, Business Development Director at Polypipe, said: "Polypipe has a proud history of investing in staff skills development whilst constantly looking for ways that we can improve our processes. This award is a fantastic recognition of Ben's commitment to innovation and his drive for continuous improvement. We're immensely proud of his accomplishments to date and are excited to watch his continued development."
Ben was recognised at the AMRC's annual ceremony, which took place at the University of Sheffield on 30th March.
Of his achievement, Ben said: "The experience that I've gained during my apprenticeship so far has been invaluable, and this award win is a great additional bonus. I've benefitted hugely from gaining practical experience whilst continuing my studies, and everyone at Polypipe has been supportive of my work. It's great that I've been able to make a positive impact, and I'm keen to see how else I can develop my career."
Back to News