Pre-Insulated Pipes & Fittings
Highly flexible, pre-insulated piping system, combining both the flow and the return medium pipes in the same jacket pipe, primarily intended for the transport of heating water or other heat-transfer media in underground distribution networks.

The medium pipes are made from cross-linked PE-Xa with an orange coloured oxygendiffusion barrier for the flow line, and a blue coloured for the return. The colour code enables easy identification of flow and return during installation, even with mounted shrink end caps.

The multi-layer thermal insulation is made from cross-linked, microcellular PE-X foam with a water-repellent closed cell structure, characterised by its durable, non-ageing insulation performance, and its permanent elasticity, maximizing the thickness of the insulation layer, even after bending multiple times.

The high-grade, black coloured UV-resistant, double walled, corrugated HDPE sleeve shields the pre-insulated pipe system against mechanical impacts and moisture, whilst maintaining maximum flexibility.
Literature & Technical info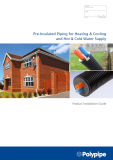 pdf (1.78 MB)
Pre-Insulated Pipes Product Installati...