Universal Compression Waste - Polypropylene
Polypipe compression waste now incorporates BioCote® antimicrobial technology and our new Fit-Rite™ technology. Our Fit-Rite™ technology has been developed and created to make installation, particularly in tight spaces far easier with less risk of the fitting leaking in the future.
• Fit-Rite™ technology
• BioCote® antimicrobial technology
• Works with solvent weld and push fit waste sizes
• 32mm & 40mm in white only
Literature & Technical info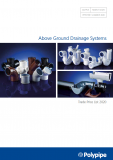 pdf (9.57 MB)
Above Ground Trade Price List [MAR 202...
pdf (5.84 MB)
[INSTALLATION GUIDE] Above Ground Drai...