System 2000 Solvent Weld Waste - MUPVC
MuPVC is the preferred choice of waste system where higher temperatures and higher use of chemicals are involved. We would recommend using MuPVC in place of ABS in schools and dentists for example.
• 32mm, 40mm & 50mm
• Black, Solvent Grey & White
Literature & Technical info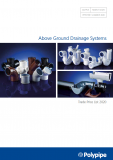 pdf (9.57 MB)
Above Ground Trade Price List [MAR 202...
pdf (5.84 MB)
[INSTALLATION GUIDE] Above Ground Drai...