Waste Traps - Polypropylene
Bath traps work the same as any other trap but are designed to fit under a bath and accommodate if required an overflow to be connected into the trap.
Most of Polypipe's bath traps offer a swivel function to allow a 360 deg option for connecting waste pipe.
Literature & Technical info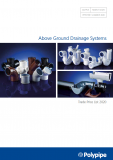 pdf (9.57 MB)
Above Ground Trade Price List [MAR 202...
pdf (5.84 MB)
[INSTALLATION GUIDE] Above Ground Drai...