The Polystorm Inspect cell provides a tunnel along the length of a fully installed Polystorm structure to provide access for inspection and maintenance.
How Polystorm Inspect Works
Polystorm Inspect is a high strength thermoplastic cell which evenly distributes its load through the Polystorm structure. The tunnel end is left open by default but the unit can be closed off if required by clipping into place the moulded end plate. For purposes of identification, the cell features a yellow center section and end plate.
Polystorm Inspect Works With The Polystorm System
Polystorm Inspect is suitable for use with Polystorm Lite, Polystorm-R, and Polystorm. It may be combined with Polystorm Access for both vertical and full length remote inspection and maintenance.
Polystorm Inspect Features & Benefits
Creates a horizontal tunnel running through the middle of the tank to provide access for inspection and maintenance, i.e. jetting and rodding
Can be used with Polystorm Lite, Polystorm-R and Polystorm
Tunnel can be used as a flow inlet track achieving greater stormwater flow distribution within the unit
Large access tunnel (height 320mm and width 172mm nominal) – allows maximum field of vision while maintaining the systems structural performance
High strength to weight ratio
Light weight cell allows easier handling and reduced Health & Safety risk
Utilises the same Shear Connectors and Clips as the Polystorm range
The tunnel restricts the dissipation of silt in to the overall structure making inspection and maintenance easier
Polystorm Inspect cells with 225mm or 300mm inlets are available
Literature & Technical info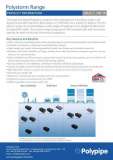 pdf (789.66 KB)
Polystorm Flyer
pdf (5.03 MB)
An 8 step guide to a total Polystorm s...
pdf (159.2 KB)
Polystorm Inspect Datasheet