Geocellular Water Management Systems
We provide the widest range of geocellular water management solutions to meet the requirements of sustainable drainage systems (SuDS) across an extensive variety of applications.
The Polystorm system is the established solution for deeper applications, whilst the Permavoid system is proven to provide robust, effective source control through retention, attenuation or infiltration at shallower depths.
Geocellular Water Management Shallow Applications
The Permavoid geocellular sub-base replacement system has been specifically designed and tested to provide stormwater treatment and management at shallower depths. Modular cells form a structural raft of exceptional compressive and tensile strength.
Minimising the need for excavation, it is ideal for problematic sites such as those with a high water tables or contaminated land.
---
Geocellular Water Management Deep Applications
The tried and tested Polystorm geocellular system provides stormwater retention, attenuation or infiltration at a variety of depths, and is ideally suited for deeper applications.
It can accommodate a variety of traffic loadings, from pedestrianised areas to large HGV parks.
---
Shallow and Deep Working together
We are the only manufacturer who can offer combined shallow and deep geocellular solutions, creating an even wider choice for the management of surface water.
Talk to us early in the project and we can help you find the right combination of shallow and deep systems to deliver considerable project cost savings.
Literature & Technical info
pdf (7.13 MB)
Permavoid System Technical Manual
Case Studies
Before 294 homes could be built to create one of London's most prestigious new developments, stormwater run-off problems at the former greyhound track site in...
View Case Study >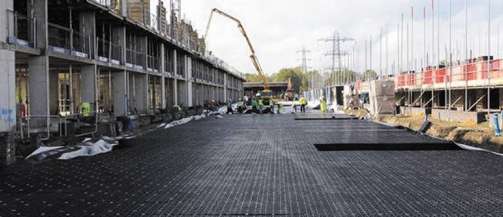 The Walthamstow Stadium redevelopment project, developed by Quadrant Construction, will boast 294 new homes that incorporate sustainable drainage features, brown roofs...
View Case Study >
Overseen by Main Contractor John Sisk Ltd, the development of the new UK Head Office of bet365 in Stoke-on-Trent saw Polypipe's products installed by groundworker E P...
View Case Study >