Innovation takes centre stage as hockey heads to The Stoop
Wednesday 19th June 2019
Innovation takes centre stage as hockey heads to The Stoop
Hockey has long been a sport synonymous with innovation. From pioneering rule changes to the introduction of video umpire referrals, a willingness to embrace change has been crucial to the sport's evolution. However, few of these innovations have had quite the same impact on the game as the arrival of synthetic pitches.
Since their introduction in the 1970s, synthetic surfaces have revolutionised the game, providing a consistent, predictable surface which made hockey even faster and triggered the development of an array of new skills.
While these high-tech surfaces often take months to install, the option of simply constructing a hockey pitch in any stadium you choose for one-off international matches has not been possible until now thanks to a ground-breaking partnership involving England Hockey and Polypipe.
An ambitious target
In October 2018, it was announced that Great Britain's FIH Pro League double header against New Zealand's Black Sticks in June 2019 would be played in west London at the Twickenham Stoop Stadium, home of Harlequins rugby. As the Stoop does not have a synthetic surface, the decision to move to the 15,000 seater stadium - which at capacity will see the largest hockey attendance in the United Kingdom since the London 2012 Olympic Games – presented a significant technical challenge.
Whilst it is not the first time that a non-hockey specific stadium has been used, installing a synthetic surface for just one day of action would be game-changing for the sport according to FIH Facilities & Programme Manager Alastair Cox: "such a technical breakthrough would mean that hockey could be staged in any venue anywhere in the world, enhancing the games appeal and making the experience as enjoyable as possible."
In March 2019, the project took a big stride forward when a temporary pitch replicating what will be in place at The Stoop was constructed at Bisham Abbey National Sports Centre, home of England Hockey. Over a two-day intense trial involving both men's and women's national squads, the pitch was subject to close scrutiny. "A lot of lessons were learned at Bisham", says Cox. "From an FIH point of view, we absolutely insisted on that trial taking place. It was very good for everyone involved and the feedback was invaluable. It was important that we got things right or the players would simply not accept it."
The game-changing solution
At the Stoop, 24,000 interconnected 85mm deep Permavoid units cover the 6000 sqm playing surface. Laid on a permeable geotextile, the units are topped with a 25mm flexible shock pad tuned to maintain the level integrity of the finished surface.
The distinctive blue 'carpet' that tops the composite structure is unique to hockey – its nap controlling ball rolling speed and pass accuracy. To do this consistently the carpet needs to hold a prescribed moisture level which is achieved by regular watering. Permavoid's open cell structure provides a temporary attenuation volume to receive any excess water from the surface, eliminating the risk of any surface water ponding, while allowing it to infiltrate to ground at the sub-soil's natural rate.
"Satisfying the performance requirements of the FIH has been a significant technical challenge," says Sean Robinson, Business Development Director, Specification, at Polypipe. "Working with England Hockey, sports turf consultants, STRI, and Polytan, developers of the synthetic carpet, the trials proved the concept and clearly demonstrated that we could not only achieve the structural stability of the pitch to within a 3mm tolerance, but also regulate moisture levels at the prescribed limit."
The entire pitch took the installation team two weeks to complete. After the FIH matches, every element used in its construction will be re-used, clearly showing the versatility and environmental compatibility of the system. "Architects and developers looking to create attractive, value-added urban spaces can utilise this pitch concept to promote a range of sports, providing easy access and encouraging participation with the associated health and wellbeing benefits," says Sean Robinson. "For stadium owners, it offers great potential to turn their venues into truly multi-functional arenas, significantly increasing opportunities for revenue generation."
In a permanent setting, Permavoid – which is manufactured from 100% Polypropylene - can form part of an integrated, sustainable water management solution, providing attenuation on roofs, podiums and shallow depth areas that may not be suited to traditional surface water storage systems – contaminated land for example.
Both teams that played in this year's Champions League final have utilised Permavoid as a central element in their home stadium water management, using surface water collected from across their sites to irrigate and maintain an optimum playing surface. (Read here).

Tickets for Great Britain's FIH Pro League matches against New Zealand at The Stoop on 23rd June can be purchased by clicking here.

#FIHProLeague
Back to Blog
Related products
Permavoid Capillary Cones - Product Codes: PVPP85CC2 & PVPP85CC4   Permavoid 85mm units are shallow, load-bearing, modular geocellular units whic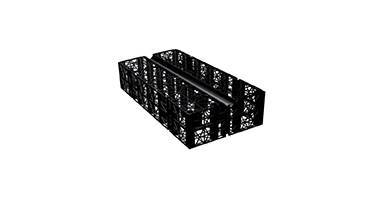 Permavoid 85 and 150 - Product Codes: PVPP85 and PVPP150   Permavoid units are available in two depths, 85mm and 150mm. Both are used to create a geo
The Permavoid system comprises of high strength modular cells suitable for sub-base replacement, plus components that incorporate silt / oil treatment