Terrain PP Push-Fit Waste
Our polypropylene (PP) push-fit waste system offers a range of plain ended pipes and socketed fittings to meet all your project requirements where a push-fit system is preferred.
Contact us as early as possible in your project so that we can tailor the right system for your project needs. Click here or call us on 01622 795 200.
Features & Benefits
Light weight and easy to handle
Quick, easy installation
Comprehensive range of fittings
Suitable for simple or challenging installations
Literature & Technical info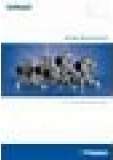 pdf (16.52 MB)
Terrain Above Ground Technical Manual