15mm Stainless Steel Manifold and Ancillaries
Featuring patented valve technology, our Stainless Steel Auto-Balancing Manifold incorporates automatic flow control technology. Once commissioned, the system will constantly adjust each circuit to the desired flow rate, ensuring your Polypipe Underfloor Heating system operates with optimum temperature distribution and maximum energy efficiency – at all times.
Literature & Technical info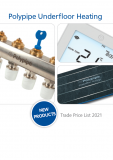 pdf (3.74 MB)
Underfloor Heating Trade Price List [A...