Pro-Straight Piping
Our entire range of plumbing & heating pipe coils now come with Pro-Straight technology built in, giving you unparalleled ease of use during installation.
We choose polybutylene to creat the most flexible and efficient pipes and jointing systems available. Polybutylene pipe is ideal for both domestic hot and cold water plumbing and heating systems, offering exceptional durability and long-term performance, which has seen it become the preferred material choice for today's building projects.
The most important characteristic of polybutylene is its natural flexibility, allowing you to bend the pipe into even the tightest of spaces. Polybutylene is the most malleable plastic used in the manufacture of piping systems.
Pro-Straight Piping Features:
Ready to use straight from the coil
5 layer Barrier Pipe
Remains highly flexible from the coil
Lightweight and easy to handle
Fast and easy installation
Good cabling ability
Suitable for use in most plumbing and heating installations
British Standard Class S rated to BS7291 Part 1
Kitemark Licence Number 38148 to BS7291 Part 1 & 2
Literature & Technical info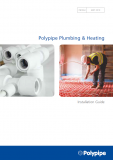 pdf (9.2 MB)
Plumbing & Heating Installation Gu...