The 2023 Vosges Challenge: Diary from the Road
Monday 2nd October 2023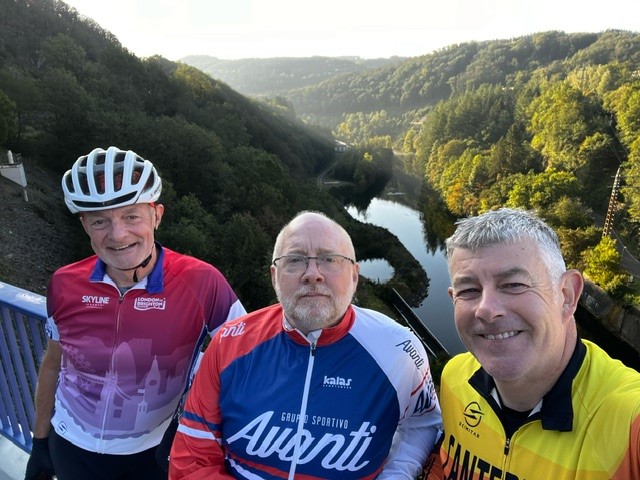 Polypipe Building Products Regional Sales Manager Gary Foord recently took on the Challenge Adventure Charities (CAC) 'Vosges Challenge' alongside several other people from across the industry.
Team 'Lean Green Poly Machine' was also made up of Toby Edwards (Saint Gobain), Jez House (Direct House Heating) and Keith Driscoll (Wolseley).
Here is Gary's update from the road:
Day One
We set off from Oostende for the 190 miles, 13,000ft of climbing at 6am Thursday morning. After a 75 minute car journey every rider had the joys of a 1.5 mile cobbled climb!
Most of the morning session consisted of undulating roads and cobbled sections, a really bone and bike shaker! After about 100 miles then the climbing really started with some long gradual climbs with seemed like very little downhill.
Finally we reached our destination for the evening at just gone 7pm for much needed food, a glass of vino and sleep!
Day Two
Our ride today is 192 miles and 12,000ft. Starting in Belgium we go into Luxembourg back and fro between the two countries finishing at Centre Parks in the Loire Valley, France. The days starts from the hotel at 7am straight uphill for the first couple of miles, then we reach the wonderfully smooth roads of Luxembourg and the views from a stunning dam.
The bulk of the climbing is in the first 120 miles, steady climbs with a few steep sections to contend with. Head wind was probably the biggest challenge with the last 80 miles all into headwind with the last 35 miles gently climbing.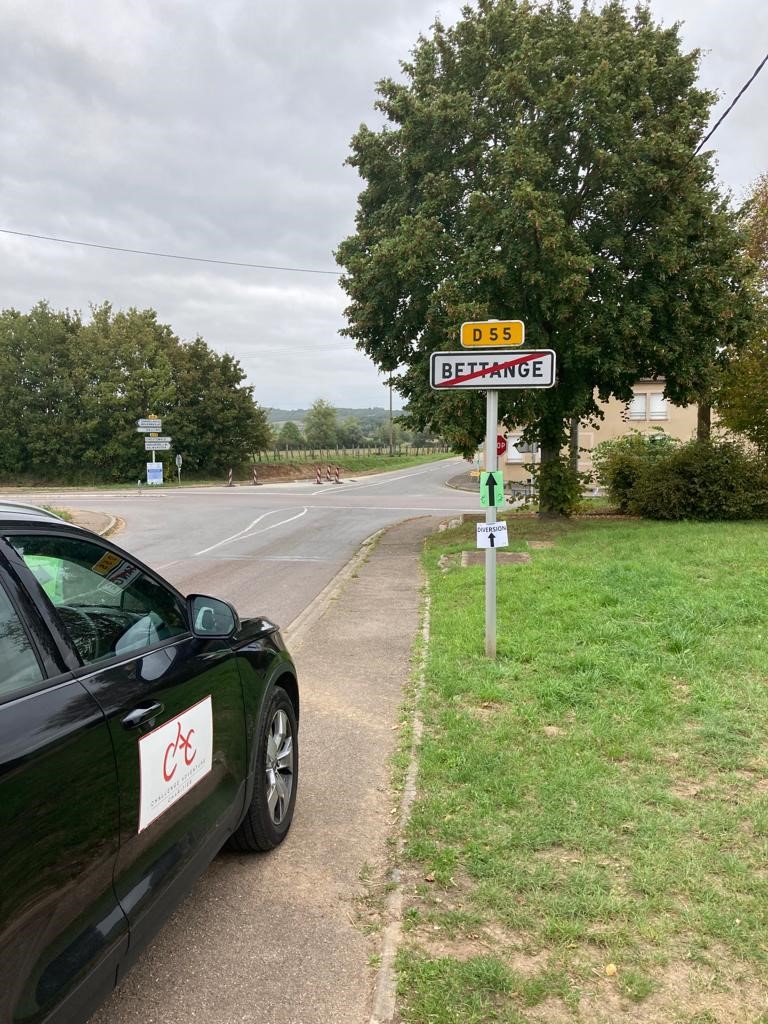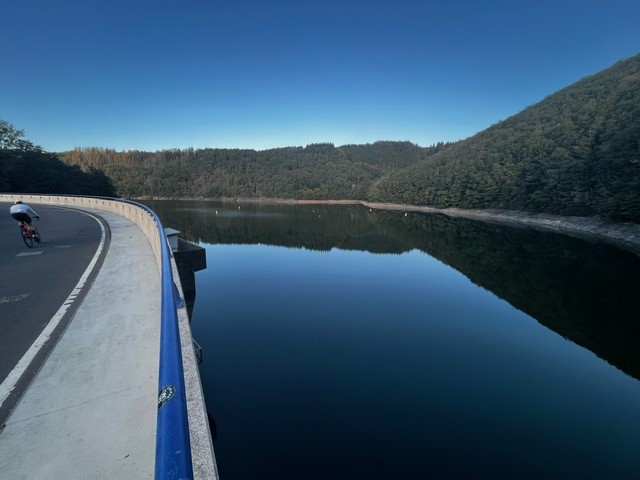 Day Three
This was the day of climbing!!! 160 miles but just short of 20,000ft of climbing with 7 mountain passes to contend with, this day was tough.
Given the challenge we set off from Centre Parks before 7am in order to get the best of starts, given the first climb was only 10 miles from the start, quick short swapping of riders was needed. The task ahead was clear with climbing of over 500ft in less than 2 miles was going to be punishing on the legs.
By frequent swapping of riders we cleared climbs 1,2 and 3 reasonably quickly, then came climb 4 with a long drag to the top and then the next 30 miles riding 3,500ft above sea level, every incline felt hard. We peaked at just over 4,000ft and after a quick coffee stop; Toby and Jez enjoyed a 10 mile descent hampered by goats on the road and cobbled bends.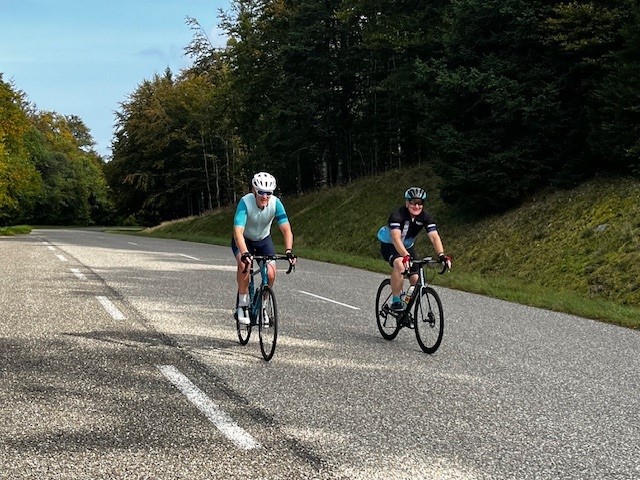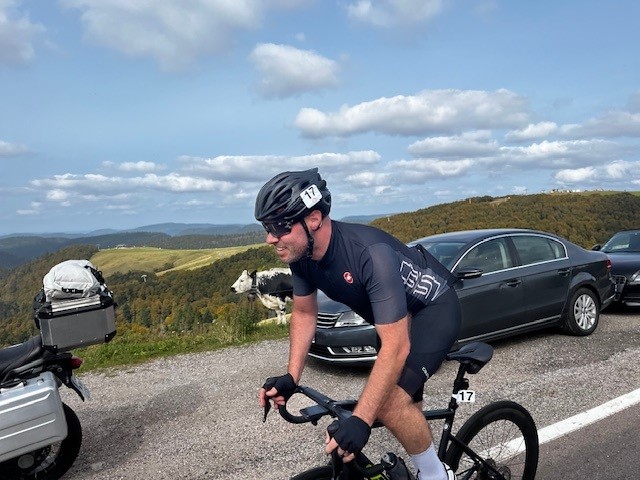 The climbs kept coming and so did the gradients now with long sections well over 10%. As we reached the final 15 miles we looked forward to the Strava Section and the final climb; the iconic La Planche des Belles Filles. Unfortunately what no one told us was the last 13 miles were all uphill on a single track! With time and light against us, we decided to take the easier option and all remained in the vehicle to take on the Strava Section.
Toby was the best of the group with a commendable time of just over 35 minutes, the record held is by Richie Porter in 15.10 in the 2020 TdF!!!!
It was back to our final hotel and celebration dinner drinks and presentations. To my surprise and great delight I received a glass tankard to reward my 10th year of attending and supporting this fantastic charity and all they raise for British Heart Foundation and Cancer Research which stands at well over £5m.
Thanks goes to Polypipe Building Products for continuing to support CAC, the comradery of all the teams, to my team of Toby Edwards, Keith Driscoll and Jez House, but most importantly to the marshals for brilliant signage and tips on route, Briony for all her relentless hard work in chasing information and to Tom and Stuart Mason-Elliott who without them we would have such a well researched, challenging and rewarding experience.
Team Lean Green Poly Machine signing out, see you next year!
To donate to the challenge JustGiving page and help to support the British Heart Foundation and Cancer Research UK please visit Lean Green Poly Machine fundraising for Challenge Adventure Charities on JustGiving.
Back to Blog