Ogee Extra Capacity Gutter 130mm x 70mm - PVCu
Our Ogee Deep Capacity Gutter is the ideal rainwater system for areas that experience high volumes of rainfall. The system is available in black, white and brown.
Literature & Technical info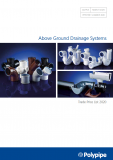 pdf (9.57 MB)
Above Ground Trade Price List [MAR 202...
pdf (5.84 MB)
[INSTALLATION GUIDE] Above Ground Drai...