Manchester John Swift Building Renovation
Creative agency, SLG, planted its roots in Manchester in 1980, occupying the iconic John Swift fruit merchant's building which had sadly been left derelict. The agency's three founding partners restored the building, but more recently undertook a complete renovation and style makeover. They needed an efficient and effective heating system for its open-plan design.

The agency needed a heating system that worked with the configuration of furniture and meeting rooms as well as being sympathetic to the historic features of the building. They also wanted the flexibility to precisely control the temperature in different zones where, for example, the building gets more sun and where it doesn't get much at all.

Polypipe Underfloor Heating was installed as the perfect solution for the agency's modern open-plan layout. It provided complete design freedom, allowing the construction of a unique 'glass box' boardroom which couldn't otherwise be effectively heated with traditional radiators. Overall, the underfloor heating system allowed the agency to achieve a stylish but functional finish.
To find out how cost-effective and easy it can be to add underfloor heating to your next project, contact the Polypipe Underfloor Heating team via design@polypipe.com.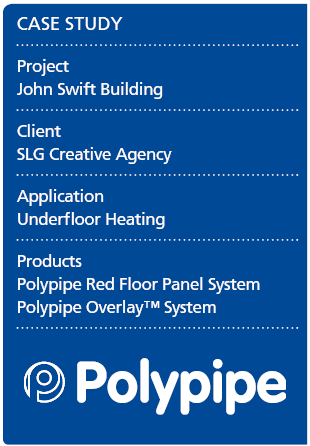 Literature & Technical info
pdf (880.34 KB)
New Smart Underfloor Heating Controls
pdf (2.35 MB)
Underfloor Heating Trade Price List [M...