Graduate Recruitment Scheme
From graduation to innovation
Know your future.
Three years. It seems a long time, but it will be gone before you know it. Of course, there is a reason for that; time flies when you're having fun. And that's what you'll experience on the Genuit Group Graduate Recruitment Scheme. That, and immersing yourself in how Genuit works. It's manufacturing with a difference. It's working with plastic in a sustainable, responsible, useful and interesting manner. It's understanding real life value and witnessing real life challenges – and taking part in finding solutions through research, development and expertise. You'll travel the country. You may travel overseas. And you'll have a three-year journey filled with innovation, ideas, hands-on experience, diversity and hard, but fulfilling, work.
Know Polypipe.
Genuit Group is one of Europe's largest manufacturers of engineered piping systems, water management solutions and energy-efficient ventilation systems, delivering engineered solutions that respond to a rapidly changing environment. Since 1980, we have provided the construction industry with innovative drainage, plumbing and surface water management solutions for the residential, civils and commercial markets – developed to meet project challenges, for the successful management of water both inside and outside buildings and the infrastructure that surrounds them.
Our engineering and management expertise keeps us at the forefront of shaping the future of the built environment. And in doing so, making it a more interesting place to be, more sustainable, and innovatively charged. Now, you can be a part of the process within a FTSE 250 company – and a part of the progress; learning and applying your ideas that enable solutions for a sustainable and resilient built environment. And you thought we were just a pipe company.
FAQs
For answers to frequently asked questions and more, download the Genuit Graduate Brochure brochure below.
First six months, full induction into your selected business function. Second 6 months, secondment plan to broaden depth of Company and Group understanding. Secondment Programme developed taking your preferences into account.
Return to your selected business function and embark on Leadership Management top-up qualification, whilst undertaking functional duties.

Project driven initiative (back within Group business), inclusive of Project Training.
Permanent Placement (Guaranteed within Group). Your career path may take you into one of several functional areas including: New Product Development, Product Management, Quality, Engineering, Technical, Manufacturing, Sales, Marketing, Finance, HR, Health & Safety, or even Mergers and Acquisitions.
At Genuit Group, our people are our most valuable assets. And as we continue to grow, meeting new challenges and chasing exciting opportunities, so too does our investment in people.
The Genuit Group Graduate Scheme focuses on finding the best people; those who want to move forward with us and help us to progress further as a result. Which is why you'll enjoy an interesting three years of hands-on innovation throughout all Genuit Divisions - taking part in insightful research and discovering opportunities that could change how we live today for the better. At the same time you'll be rewarded with a total package worth more than £30,000 in your first year - as well as the start to a great future with a forward-thinking company.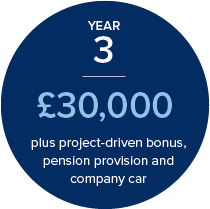 BSc with a 2:1 minimum application level (MSc desirable) - driving licence needed for secondment flexibility.
To be able to demonstrate aspirations to work in a fast-paced environment, to be practical and down-to-earth in your approach, and have the ambition and drive to succeed.
Evidencing attributes should include:
---
Literature & Technical info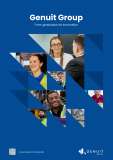 pdf (4.19 MB)
Genuit Group Graduate Recruitment Sche...
---
Apply for a place on our graduate scheme
You've come a long way – both in terms of your career planning and getting to the Application Section in this brochure. So what's next? It's a no-brainer really, after all, what better reason is there to join a company than to be a part of a better future? All you need to do to get started is fill out the form.
Together with the form, you'll need to upload your CV and (here's the fun part) submit a short 2-minute video statement of why you'd love to work for Polypipe, which career path interests you and what personal qualities you could share with us to further our business and your career.
Once we've received all relevant information, and we like what we see, you'll be requested to take a couple of online tests. If you're successful after all that, you'll be invited to complete some exciting challenges at one of the Polypipe Group sites.
So what more can you expect? A great future… that's what.