Predominately installed in new build or renovation where a floor requires excavation - Polypipe Underfloor Heating offers three systems for solid or screeded floors: the unique Polypipe Red Floor Panel system which ensures accurate installation and positioning, and also the more traditional rail and staple systems.
Red Floor Panel

For optimum performance, Polypipe has the perfect solution for installing
underfloor heating into solid or screeded floors. Utilising our unique
lightweight plastic floor panels, which are quick and easy to cut to size,
it is possible to fit Polypipe Underfloor Heating into any shape room. The
lightweight floor panels also nest for easy storage and carrying.


Polypipe Red Floor Panels form a simple grid to ensure the fastest possible
pipe laying and also provide a precise guide for the pipe, ensuring that the
minimum pipe bending radius is achieved.


The panels are laid above pre-installed insulation and the system includes
edge expansion strip to ensure maximum performance and efficiency.



Clip Rail and Staple Systems

We also provide a range of rail and staple systems that fit directly onto the
insulation, offering a more traditional alternative to installing underfloor heating
in solid or screeded floors.
Literature & Technical info
pdf (2.35 MB)
Underfloor Heating Trade Price List [M...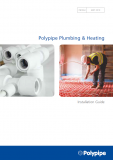 pdf (9.2 MB)
Plumbing & Heating Installation Gu...