We understand the key part design plays in creating the right atmosphere for retail therapy. Our Terrain Siphonic Roof Drainage systems allow large roof areas to be drained quickly which means less space is taken up by vertical drainage pipes, making your comemercial building, warehouse, factory or retail premises more aesthetically pleasing.
We offer Terrain Drainage systems and rainwater management solutions for high footfall areas - from water management solutions to leak free joint integrity for drainage pipe systems and water supply systems. Our Terrain Siphonic Roof Drainage is suitable for most industrial buildings with a large, flat roof area, such as warehouses, factories and retail outlets.
Literature & Technical info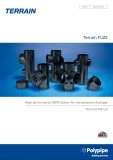 pdf (5.76 MB)
Terrain FUZE Technical Manual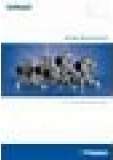 pdf (16.44 MB)
Terrain Above Ground Technical Manual
pdf (85.32 MB)
Siphonic Roof Drainage Systems Brochur...
Contact us as early as possible in your project so that we can tailor the right drainage system or pipe solution for your project needs.
Contact us