RIDGISTORMControl Penstocks and Valves
We offer pre-fabricated structured wall chambers, in a range of diameters, which feature 'in line' system component such as a Penstocks, Gate Valves or Flap Valves. These products facilitate maintenance, control system flows and protect the drainage system from surcharging.
They are manufactured in a factory controlled environment, resulting in a high quality watertight structured walled chamber, that eliminates wastage associated with in-situ construction. Delivered to site as a one-piece modular solution, RIDGISTORMControl Chambers reduce installation time and cost on-site, as well minimising Health and Safety risks.
View the full Ridgistorm chambers range.
RIDGISTORMControl Gate Valves
Used to permit or prevent the flow of water and can isolate drainage sections. The valves open by lifting a wedge out of the path of the flow of water.
RIDGISTORMControl Flap Valves
A non-return hinged valve to prevent backflow upstream. They can also be used for outflow applications such as ponds, ditches, swales and tidal.
RIDGISTORMControl​ Penstocks
Penstocks consist of a gate which can isolate or control the flow of water or can be used as a flow control device to limit the flow of water passing through the system.
Literature & Technical info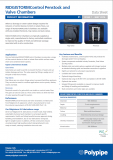 pdf (424.98 KB)
RIDGISTORMControl Penstock & Valve...