Ridgistorm-XL Chamber Lifting Points
Our range of Ridgistorm-XL Chamber Lifting Points have been designed specifically to aid in the safe handling of Ridgistorm-XL chambers when loading, off-loading and installing the products on-site.
The lifting points consist of three plastic lugs, which are pre-welded into a Ridgistorm-XL chamber or manhole by our in-house Fabrications Team. These lugs provide external points for the attachment of lifting accessories and can lift up to 2500kg in weight.
We offer three options of Ridgistorm-XL Lifting Points, depending on the size and weight of a chamber:
Standard Lifting Points
Extended Lifting Points
Heavy Duty Lifting Points
Features & Benefits
Installed off-site to ensure leak tightness
3 lifting points per chamber provide stability during handling
Fail-safe design
Lifting points are external to the chamber to reduce Health and Safety risks of working in confined spaces
Can be used as anti-flotation devices to stop the chamber floating during concrete filling
The lugs can be removed after installation without compromising the leak tightness of the chamber

Handling Guidance
All three lifting points must be used when conducting a lift, with additional slings or other lifting devices used if necessary.
For any asymmetrical chambers, additional slings or other suitable lifting equipment will be needed to prevent the chamber swinging during lifting.
Before lifting, the designated competent person must read and understand our Ridgistorm-XL Chamber Lifting Instruction and Guidance document.
Literature & Technical info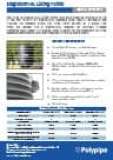 pdf (1.35 MB)
Ridgistorm-XL Chamber Lifting Flyer
Case Studies
The Gulls Way capital works scheme in Heswall, Wirral, required combined sewer improvements along an existing residential street where the existing 450mm concrete sewer...
View Case Study >