Permafoam - Product codes: PVPP85PF or PVPP150PF
Permafoam is an open-celled phenolic foam that is highly absorbent and water retentive. When incorporated into Permavoid high-strength units, Permafoam has the capacity to store 31 litres of water per cell and the Permavoid structure protects the foam from damage caused by imposed backfill or traffic loads.
Applications
Permafoam units are used for stormwater collection and provide velocity control to drainage flows within sub-bases laid over sloping surfaces. Due to the very large surface area compared to traditional check-gate flow control, Permafoam assures against the risk of the control clogging associated with traditional check-gate flow controls. It is used in conjunction with Permavoid Wicking Geotextile. They can also be incorporated into irrigation systems to provide water 'on demand' around landscaped or similar areas that have the greatest irrigation need.
Performance
The structural load bearing capacity of the Permavoid units has been tested in accordance with the following European Standard: BS 7533-13:2009. The system's structural design life expectancy, based upon creep test data (tested according to CIRIA guidelines) is as follows; for lightly loaded areas such as car parks a design life of 50 years is achievable. For areas with prolonged HGV loading a typical design life may only be 25 years, depending on the design of the pavement surfacing and structural layers over the tank.
Installation Standard
All calculations for Permafoam within designs are based upon site-specific load cases, construction types and thicknesses, soil cover and ground conditions and the suitability must therefore be approved for each project.
Features & Benefits
Can be used to provide 'on demand' irrigation for landscaped areas
Permafoam units can be used to form check dams and gates within pervious pavements
Literature & Technical info
pdf (349.33 KB)
Permavoid Permafoam Datasheet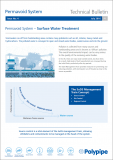 pdf (2.92 MB)
Permavoid Technical Bulletin Issue 4 -...
pdf (7.13 MB)
Permavoid System Technical Manual