New Polypipe Appointment - James Haddon, key account manager
Thursday 20th June 2019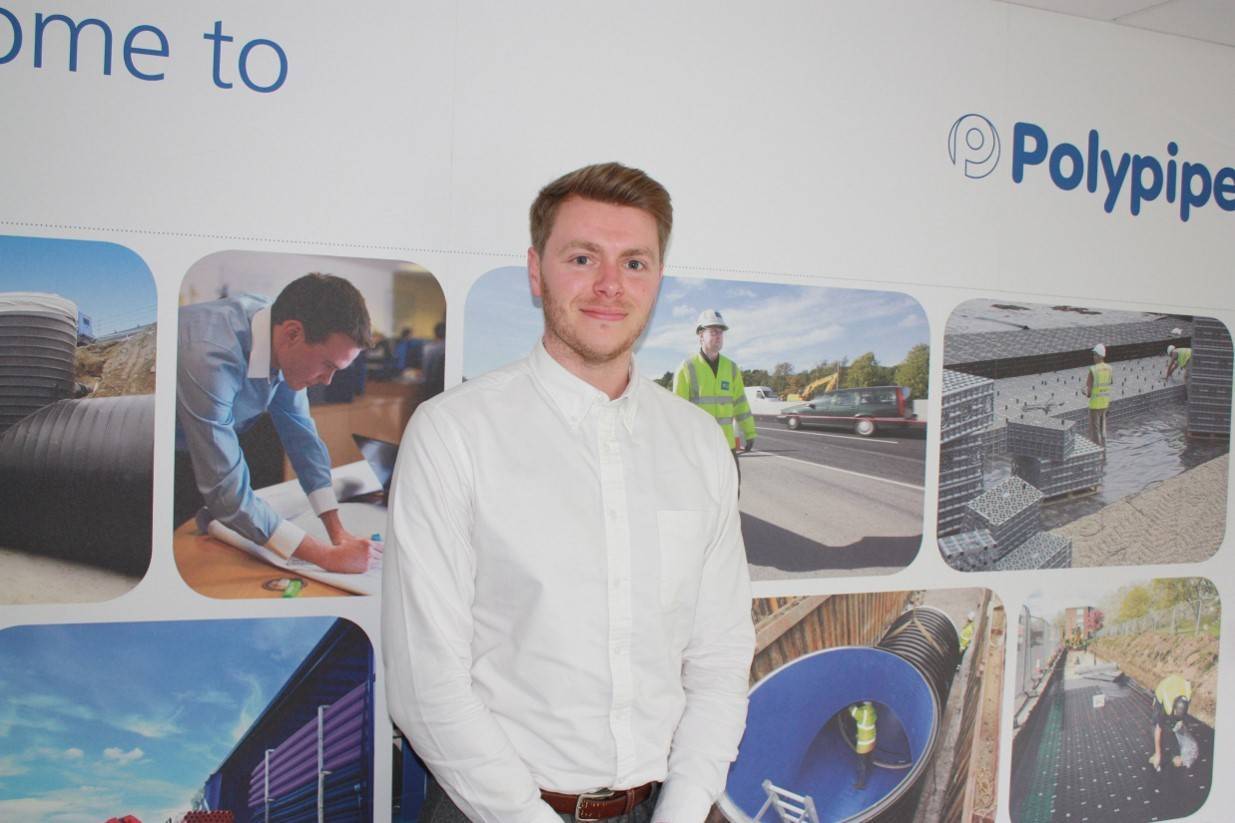 Tell us about your new role
I'm Polypipe Civil's new key account manager, reporting to John Moss (Business Development Director). We make up a team of three with Lee Woodcock, supporting all our key account customers.
What will you be getting up to in your role?
I'm responsible for building relationships with our key customers. I'll be making sure the service we offer is top quality, whether that's by arranging lunchtime seminars, development days, workshops, or tours around our factories so customers can see where we develop and manufacture our products. I work across the whole breadth of Civil's product portfolio, which has over 1,500 products.
What's your background?
I studied graphic design for two years after school. When I left college, my first full-time job as an apprentice carpenter, working on projects such as loft conversions, building stair cases, and hanging doors.
I left this role to join Gatic as a technical assistant. Gatic is internationally renowned for the manufacture and supply of engineered access covers and surface water drainage systems to the construction, transport and utility markets. My primary responsibility initially was to understand the products, and design software (e.g. how to cost and quote projects from complex design/engineer drawings), in order to provide technical support to all customers on any enquiries.
Following internal promotions, I then moved into the role of Specification Engineer for the South East, building relationships and presenting to clientele to gain specifications on a range of projects. This also involved acting as the main contact for key contractors, as well as port and airport operators.
What has your past work experience given you?
Throughout my various roles in my seven years with Gatic, I learnt the importance of building strong working relationships with key contacts. A major part of my role was account management, this involved regularly presenting to win new business, but then also offering support and guidance following the specification of the products.
This commercial, front-facing element of the role helped me to appreciate the importance of marketing, and how a brand is perceived by potential customers. It has given me a keen eye for detail, ensuring that all marketing and information is technically correct.
What attracted you to Polypipe Civils?
Polypipe is a key player in the Civils sector. With my experience from Gatic/Alumasc, and what I'm learning at Polypipe, the role gives me the ability to understand a complete drainage design. I believe plastic is the future for all drainage systems, so when I saw the position, I knew it would be a great step in my career.
What's currently on your to-do list?
One task that is on my list is to introduce a technical presentation for contractors, showing them that we do a lot more than just manufacture plastic pipe. We also do lots of value engineering - where we can help customers from an early stage add value to a project. Therefore, it's up to me to understand how we can add more technical advice to the larger and smaller projects we work on. I'll be meeting lots more customers and people at Polypipe Civils in future weeks, so I'm keen to start adding value – and sales!!
Back to Blog