Type BS4660 Sealed duct is available in diameters 100mm and 160mm. This range is successfully used for the carriage of all types of services fora range of applications including electrical cables, water services, telecommunications and gas services. This range is also available with couplings and bends.
Literature & Technical info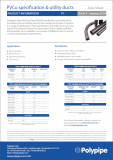 pdf (249.29 KB)
PVCu Specification and Utility Ducts D...