Our Type 4660 Non-Sealed PVCu duct is available in diameters from 110mm and 160mm. This range is successfully used for the carriage of all types of services for a range of applications including electrical cables, water services, telecommunications and gas services. This range is also available with couplings and bends.
Literature & Technical info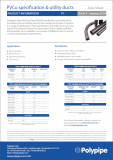 pdf (249.29 KB)
PVCu Specification and Utility Ducts D...