Ridgisewer 400-900mm Pipes
Ridgisewer is a range of structured wall gravity sewer pipes and features six sizes from 400-900mm. The range includes a complete system of couplings, seals, bends, junctions, specialist fabrications and saddles.
The system is manufactured in accordance to BS EN 13476-1 and WIS 4-35-01 v2* and has adequate resistance to the type and quantities of chemicals likely to be found in domestic sewerage.
Features & Benefits
Fully compliant with BS EN 13476-1 & WIS 4-35-01 v2*
BSI Kitemark & BBA approved*
Adoptable by water companies*
400-600mm diameters manufactured to stiffness classification 8
- terracotta polypropylene pipes with blue inners
750-900mm diameters manufactured to stiffness classification 4
- black polyethylene pipes with blue inners and a terracotta band
Lighter in weight for increased Health and Safety benefits
Structured wall pipe for high ring stiffness and strength
Integral sockets for quicker installation and greater leak tightness
Strong, flexible pipe wall withstands ground movement and differential settlement
Chemical, impact and abrasion resistant
Resistant to sulphate attack and corrosion by sewer gas
Saddle connectors are available*
Meets WRc Code of Practice for high pressure water jetting tolerance*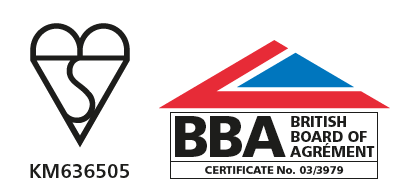 *Sizes 750mm and 900mm diameter have approval pending for WIS, BBA and adoption by water companies.